cook your quinoa by washing and rinsing a few times - in a large enough pot, boil 3 cups of water - add rinsed quinoa, stir, cover, and turn heat to low - simmer for 20 minutes, remove from heat, let sit for 10 minutes, then combine:
4 1/2 cups cooked quinoa
2 tbsp. lemon juice (this is optional, its just as good without it!), 3 tbsp. olive oil, 2 tsp ume plum vinegar or 1 tsp sea salt, black pepper
1/4 cup chopped parsley
1 tbsp. chopped green onion / scallion (optional)

cover and put in the fridge for about an hour


1 cup of chopped fresh tomatoes or sliced cherry tomatoes, l/3 seedless cucumber or 1/2 peeled regular cucumber, 4-5 jalapeno olives (optional) - sliced and diced

add veggies to quinoa mix, stir and serve with romaine lettuce or spring mix if desired!
how-to tofu:
cube 3/4 block / pound of tofu - then pour 2 tbsp olive oil in a frying pan - turn the heat on to high - add 1/4 tsp. turmeric and a few good shakes of black pepper (if you want, you can also add 1/4 tsp of curry) - when the spices start to sizzle, add the tofu and stir - leave on high heat for 4 minutes and stir once or twice per minute - pour 2 tbsp tamari or bragg's even over tofu, or sprinkle 1/2 tsp sea salt over the tofu and stir again, then lower the heat to medium-high - cook for 4 more minutes, stirring every minute or so - they should get nice and brown and tasty looking - turn off the heat, but let them sit to crisp up a little more while you prepare the rest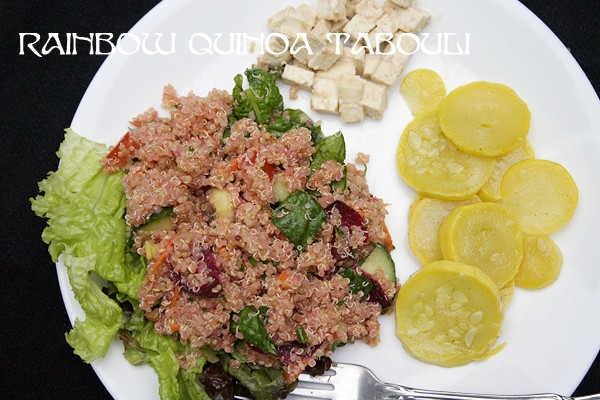 for rainbow quinoa tabouli, also add: 1 medium carrot, grated, 1/2 small beet, grated or shaved with vegetable peeler, 1 cup fresh spinach cut into small pieces (home grown and/or local grown whenever possible) - great served with summer squash in season!
next recipe | previous recipe | index